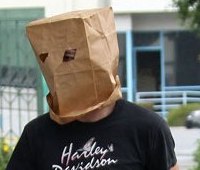 I am a big fan of aesthetically pleasing things. That's why I like fashion and art and design and really attractive people.

But sometimes it's fun and interesting to look at something ugly. I posted earlier about a swap-bot swap I was hosting, and it was fairly unsuccessful. Only two other people joined [wah-wah]. But I'm hoping this one will be more successful, because it's cheaper and easier I think. If you like to make art or like getting stuff in the mail, check it out:

click here to view the swap.
oh PS. I got really excited because today I sold a card and the ship-to address said "c/o marc jacobs" but then I realized it was just the Marc Jacobs store. Not Marc Jacob himself. sigh.