So if you've been following my blog, you know I have been trying to sell everything I own pretty much. Haha. I'm cleaning out my bookcase! If you're into chick lit, that's fantasic because I have tons of it. I bought all of these new and read through them once so they are in excellent condition and you can have them for $3 each or cheaper if you buy more, plus shipping. Or just make me an offer. lol. I would accept payment through Paypal. If anything interests you, just comment and we'll go from there!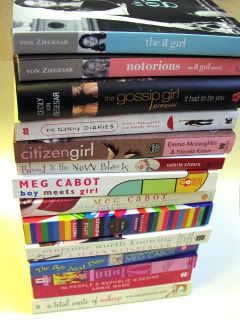 The Nanny Diaries - Emma McLaughlin and Nicola Kraus
Citizen Girl - Emma McLaughlin and Nicola Kraus
Girls Night In - Jennifer Weiner, Sophie Kinsella, Meg Cabot and others
Everyone Worth Knowing - Lauren Weisberger
Boy Meets Girl - Meg Cabot
Queen of Babble - Meg Cabot
The Boy Next Door - Meg Cabot
Pretty Little Mistakes - Heather McElhatton
Blood is the New Black - Valerie Stivers
The People's Republic of Desire - Annie Wang
A Total Waste of Makeup - Kim Gruenenfelder
It Had to Be You (the Gossip Girl prequel) - Cecily von Ziegesar
The It Girl - Cecily von Ziegesar
Notorious. an It Girl novel - Cecily von Ziegesar
*If you're sketched out by the proposition of buying books from someone's blog you can check out my
etsy
or my
ebay
profiles for references.