Since I make greeting cards, I think a lot about upcoming holidays and the themes revolving around them. Easter is April 12th this year and although the resurrection of our Lord Jesus Christ is the reason for the season, bunnies and eggs and candy are cuter than an undead Jesus (Sorry, God). Call me a perv, but bunnies and rabbits sometimes just make me think of vibrators. And then when I was thinking about bunny vibrators, I thought about egg vibrators too and I realized Easter is a sex toy holiday! Wouldn't an Easter basket filled with this stuff be awesome?? Or a sex toy hunt outside in your back yard?: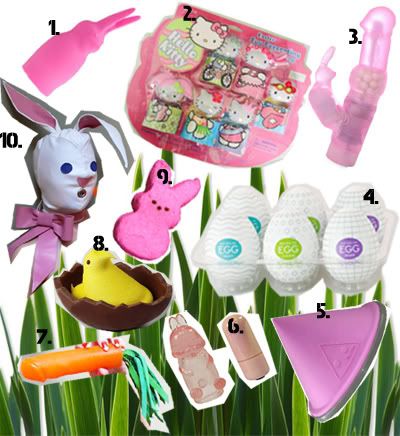 1. Bunny Bunny. It's a cover for your electric toothbrush, converting it into a vibrator. Yikes.
2. Hello Kitty Easter egg dyeing set.
3. The classic rabbit (
click to read
my previous post about my unfortunate experience with the Rabbit)
4. A carton of these crazy eggs that are toys for boys. Inside of each egg is some silicone rubbery thing you slide over your dick, I think.
5. The cone vibrator. This intimidates me.
6. The adorbz bunny vibrator I blogged about
previously
.
7. Carrot dildo.
8. Peeps!
9. Bunny Peeps!
10. Rabbit hood (If you know me at all, you'll know that I have wanted to this leather bunny hood for years. I love it!)
And I found this site that's kind of entertaining:
Pornstar Twitter
. Follow your fave porn stars on this site.