I was online shopping, checking out a sale at lorisshoes.com and I came across these necklaces that are ridiculous giant chains. They're super tacky and I super love them. The necklaces reminded me of when I lived in Seattle. I lived in First Hill, worked downtown and went to school at SU. Sometimes I would get hit on, but usually it would be if I was walking to/from work at either 4 in the morning or 11 at night because of some rollout or visuals change at J. Crew.
One sunny afternoon, feeling like shit because I had a bad cold, I was walking home from school and this guy and his homie roll up in a '88 purple Honda Prelude and they stop the car as I'm walking on the sidewalk. Homie in the passenger side has the window down and starts yelling "Girl! Hey! Girl!" and I pretend not to notice for a bit. But then when I finally turn to look he goes "GIRL!!! I got tonzzzza goolldd!!!" and both arms out the window jingling all the gold bracelets he's wearing.
wtf. Anyway, I'm sure I'll share more "getting hollered at" stories later.
I just went to check my cart at bluefly.com (I keep things in there and then check it every now and then to see which things were removed because they sold out).

My Michael Kors white moto jacket in XS sold out today ):



But the XS dark gray MK jacket is still in my cart (: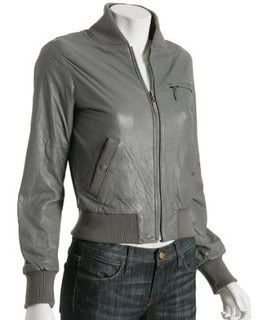 Also, the shoe page is featuring Dolce Vita shoes which I am a fan of and I was pleased to find that bluefly is offering
these shoes
for $80.00 more than I paid for them at lorisshoes.com. Damn it feels good to be a gangster. And by "gangster" I mean "bargain huntress."
Lastly, I don't watch TV or listen to the radio and the websites I visit online apparently do not keep me current on music happenings. I became aware of this video about 10 minutes ago while visiting another blog. Maybe it's old news to you, maybe it's not. But I warn you, it's really embarrassing.
At first I thought "Wow, this reminds me of Paris Hilton's 'Stars Are Blind' musical debut," and then I realized Paris' video way MUCH better than Hayden's. I still love Heroes.