Recently I bought a box with 3 pastry decorators and like 20 different tips at a thrift store for $1.50. I was very excited to try out my purchase so today I made a wheat/gluten free chocolate cake for my dad who has celiac disease.
I used a recipe I found at
recipezaar
and tweaked it a bit. I added 1/4 dutch process cocoa, a little extra xanthan gum, apple cider vinegar was the type of vinegar I used and I used buttermilk in place of water.
* 1 1/2 cups all purpose gf flour
* 1/2 cup regular cocoa
* 1/4 cup dutch process cocoa
* 1 cup sugar
* 1/2 tsp salt
* 2 tsp baking soda
* 1 tsp xanthan gum
* 5 tsp oil
* 1 tbsp apple cider vinegar
* 1 1/2 tsp pure vanilla extract
* 1 egg
* 1 cup buttermilk
Mix dry ingredients. Add liquid ingredients. Mix well. Bake at 350. I used two 8" round pans and spread some blackberry/raspberry jam between the layers before frosting.
I made up some quick frosting using butter, cocoa, powdered sugar and milk and went to town decorating this cake: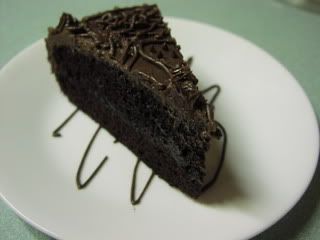 It was actually pretty tasty though it did have that gf flour twang to it that I personally think is reminiscent of bananas. No one else agrees with me on this, but there's just something off about it. I think it's the brown rice flour in the all purpose GF flour mix that does it.
Oh, plus I'm a giant dork and I called the MAC counter in Olympia and put the "On the Prowl" nail polish and Too Dolly eyeshadow on hold and I'm picking it up tomorrow. I'll probably buy a bunch of other stuff too if not just to re-sell it on eBay.