Okay, the blog title is retarded, I admit. But
insomniac lolita
tagged me to post one picture that represents my personal interior design style. It's Monticello. The entire estate but especially the house, and especially the library.
If you hadn't realized yet, I am a huge nerd. The only thing I'd want different about the library (well besides the books in it) is to have one of those sliding ladders.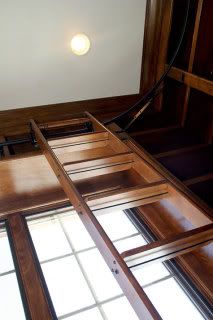 I'm tagging the following people to do the same (or even if I didn't tag you, it would be cool if you did it too). Post one picture that represents your personal interior design style!
fashionista514
blueberryshoes
stephanie
scoman
- i think a dude should do this too!
and
suzanne
I am wondering why so few people are voting on this week's poll?! Are you shy? Are you ashamed? What's the deal? It's anonymous! It's okay to say! And even if you weren't, I'm not judging (: Vote, people!! This is obvs more important than the last US presidential election!
And as for my personal life ...
I went on an approximately 17 hour first date yesterday. It was interesting (: We'll see what happens.