People who know me well know that there's nothing I love more than filling out surveys.
Fashionista 514
tagged me in this quiz and I was very excited to fill it out!

What do you think about the person who tagged you?
I only know Fashionista 514 via her blog, but I love reading it because she's fashion obsessed and has an awesome collection of Louboutins of which I am quite jealous (:

Fashion pet peeve?
Uggs, Skechers, when people don't dress for their body shape.

Describe your personal style.
"Subtly heinous." A strange mix of Bluefly and Goodwill purchases and some clothes I've sewn myself.




What is your favourite piece of clothing you own?
Right now this crazy sheer off-white fringe top I sewed.

Which colour dominates your wardrobe?
Black, probably.




Favourite designer?
Pour La Victoire shoes. Ugh. 2Die4.

What is your dream job?
I have a few dream jobs, some more realistic than others ... 1) Activities director at an assisted living facility for elderly people. 2) Stay at home MILF 3) Celebrity Stylist




Who do you want to meet in person?
The cartoon Gambit from X-Men ... I think I'd like to become a cartoon actually so I could meet him in cartoon. He makes me swoon.

What's your favourite type of music?
Beep.click-y/electronic music. Music from the 90's

What are you listening to right now?
Literally right now? Idioteque - Radiohead

What would make today special?
It's already special, I got to lay outside in the back yard and I now have bikini tan lines!

What is your all time favourite perfume?
Bvlgari Omnia Crystalline



What is your favourite makeup brand?
MAC, but I love Estee Lauder skincare products.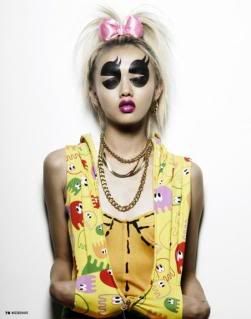 Any favourite models?
Gisele Bundchen because she is just ridiculously successful. Daria Werbowy because her name is so adorable. Gemma Ward because her eyeballs are 3 miles apart. Rila Fukushima because she's Japanese and blonde.

What are you wearing today?
yellow cuffed shorts, white american apparel wife beater that is way too long, that fringe top i sewed (: and was wearing a kinda skeezy old pair of leopard print calf hair flip flops. haha. but now barefoot.

Do you admire anyone's style?
Yes.



What would you like to have in your hands right now?
$10,000? A cute boy's hand. A strong long beach.

What's your favorite comfort food?
French bread.

What's your favorite ice cream flavor?
Green tea.

If you could have a house totally paid for, fully furnished anywhere in the world, where would you like it to be?
That's a really tough one. I don't know. Probz for the sake of familiarity, Seattle.

If you could go anywhere in the world for the next hour, where would you go?
Seattle? I miss it. Maybe a beach.




What is your favourite weather?
I like it when it is cloudless and crisp ... maybz about 63 degrees. But at nighttime I love the sound of rain.

What would you like to learn to do?
I don't know ... cut hair?

Which language do you want to learn?
It would be nice to speak German well. Or Japanese. Or French? Maybe Spanish ...

What is your most challenging goal right now?
Becoming a functioning member of society.

If you had £100 now what would you spend it on?
Bills. Bo-ring.

What do you look for in a friend?
A compatible sense of humor. An appreciation for the ridiculous.




What is your current obsession?
Getting as tan as possible in the limited amount of sun we have in WA.

What is your weirdest obsession?
Hahaha. I have a lot of weird obsessions. Cheesy 90's stuff. Ugly art. Organic Valley whole milk. Paper products.

Describe your ideal date: A picnic in the park. A walk or a hike. Kissing somewhere secluded and possibly eyeball-licking. Is that weird??

So Here are the almighty rules...

Respond: answer the questions on your blog.
Replace one question that you dislike with a question of your own invention, add one more question of your own.

Tag eight other people.

Well, I'm breaking the rule and I'm not going to tag anyone because I don't want anyone to feel pressured into doing this, but if you want to copy it and post it, please do! I love doing stuff like this and it'd be fun to read what other people's answers are (: